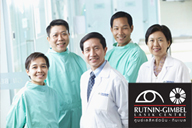 Mondays – Saturdays:
8:00 am – 7:00 pm

Sundays:
8:00 am – 5:30 pm

Public Holidays:
8:00 am – 4:00 pm
 
Tel: +66 2639 3355
Rutnin-Gimbel LASIK Centre intergrates over 45 years of expertise in eye care. Rutnin-Gimbel provides every alternative in eye care to offer the best possible treatment for each of our patients' eyes. Depending on our patients' particular needs, we offer FEMTO LASIK, LASIK, PRK, LASEK, Phakic Intraocular Lens , Near Vision CK, Near Vision LASIK, Refractive Lensectomy (Multifocal Lens / Accommodative Lens) and Ferrara Rings.
Special Promotion for eyes laser treatment
up to THB 10,000.- Discount
Call now at +66(0)2 639 3355 or www.rutningimbel.com

Rutnin-Gimbel Exicmer Laser Eye Centre has the pleasure in offering you the special promotion prices for LASIK. Rates shown below are applicable for two-eye, for an eye fee please contact the centre directly at the number given above.
Type of Treatment
Surgical Fee
(THB)
Promotion Discount
More Extra Discount
LASIK Surgery (both eyes)
THB 62,000 - 79,000
THB 5,000
THB 3,000*
FEMTO LASIK Surgery (both eyes)
THB 122,000 - 139,000
THB 20,000
THB 8,000*
Implantable Contact Lens (1 eye)
THB 85,000 - 95,000
THB 5,000
THB 5,000*
INTRACOR (1 eye)
THB 70,000
THB 5,000
THB 5,000*


Terms & Conditions
Advance reservation is required.

Guest is required to present the hotel's key card together with an E-coupon if requested in order to be accorded the privilege.

This privilege is not included of pre-operative assessment.
*More Extra Discount is applicable in case the surgery made within 30 days after consulting with a doctor.
Rutnin-Gimbel LASIK Centre reserves the right to any changes without prior notice.
Rates are exclusive of pre-operative assessment THB 1,500.
Hotel offerings and information may change at any times without prior notice.
CHPP and / or its affiliated properties will not be held responsible for resolving any disputes or for the dispute itself.
How to get there

Asoke BTS Station
Proceed to Exit no. 3
Head towards Asoke.
15 minutes walk to get to Rutnin-Gimbel or Rutnin Eyes Hospital.

Phetchaburi MRT Station.
Proceed to Exit no. 2.
Head down Asoke towards Sukhumvit Road.
The first building on the right hand side is Asoke Building
The opposite building of it is Rutnin Eye Hospital.
Rutnin-Gimbel LASIK Centre is situated inside the hospital.